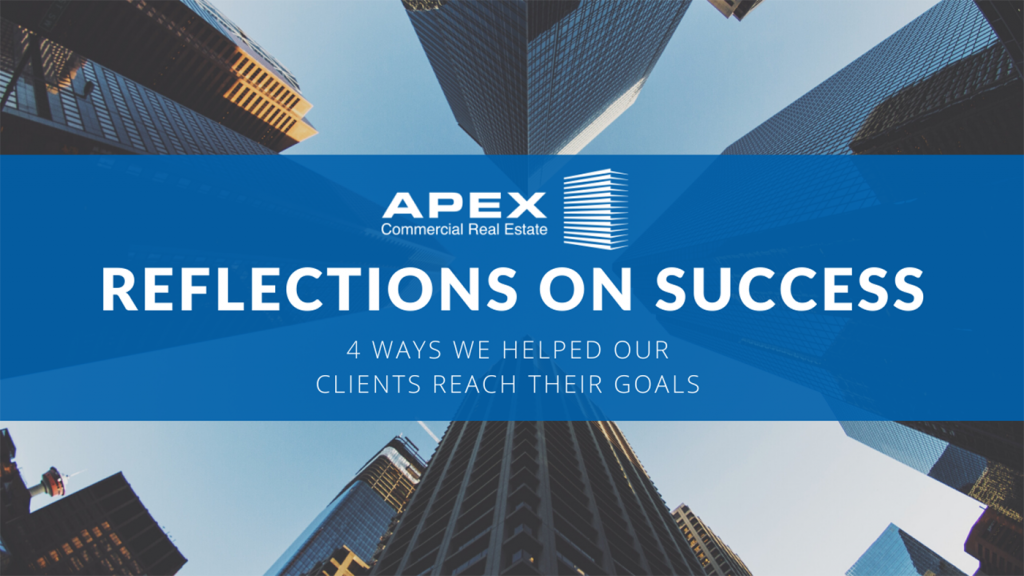 Every year we take time to reflect on the previous year to see how effective we have been at truly fulfilling our mission statement, which is to help private owners, investors and middle market companies to succeed. Overall, we are happy to report that it has been a tremendously successful year for us because of the positive impact we have made in our clients' lives. Most importantly, we have remained true to our core values.
For most of the clients we meet, commercial real estate brokers are a commodity, a dime a dozen with no real differences to distinguish one from the other. The only way clients gauge a successful broker is either by the car they drive, how long they have been in the business or by what company they work for. Unfortunately, it's also very subjective even within official and well-known commercial real estate organizations.
How are commercial real estate companies measured on success? Each year Co-Star, the industry's leading research firm for commercial real estate, will ask brokers to submit their list of deals done in order to convey a coveted "Power Broker" designation. This is the only way for them to obtain comparable data on closed sales transactions and in which they later repackage and sell back to the brokerage community. This is the questionable reality of their business model.
As a result, clients are left with superficial means of determining whether or not a broker has the experience they claimed. Only when a client is deep in a transaction will they be able to determine the quality of the character of the individual representing them. With the tremendous cut-throat competition in commercial real estate, the pressure to survive is intense. Often an agent turns into a deal machine, simply wanting to quickly close a deal in order to get on to the next one.
Why is this important to know about our competitors? Our years of experience has taught us this: first, is that compensation plans drive behavior and second, is when someone is under pressure, they are likely to make mistakes and are not performing at peak levels. Those two reasons are the same reasons why we left the corporate CRE environment 9 years ago to pursue the vision of helping our clients succeed without those unnecessary burdens. Certainly, brokers are obligated through agency law to put their client's interest first, but this is not always the reality.
What makes APEX a different kind of commercial real estate company? By leaving the high-pressured environment with high overheads and thin compensation models forcing agents to be deal-focused machines, we were able to break free and align our personal beliefs and interests with those of our clients and frankly, be true to our values. We are proud to say that our commitment to be helpful, to operate with high integrity and to be client-focused above all still stands today.
We have worked hard to help our clients achieve great success in 2019. Looking back on our success stories, several themes stand out and we'd like to share some of them with you. If these are the results you're looking for, we can help you like we've helped these clients.
HERE ARE 4 WAYS WE HELPED OUR CLIENTS REACH THEIR GOALS
RETIRE EARLY
Everybody wants to retire early but not everyone knows how. Many of our clients were able to retire much sooner than they thought because of our help finding quality investment properties for them. We guide our clients through the complex commercial real estate industry through our personalized, proprietary process to ensure that their ultimate goals are met.
STRENGTHEN RELATIONSHIPS
Owning commercial real estate is stressful and can strain personal and business relationships. One of our clients' marriage is strengthened and family relationships are restored because we eliminated the stress and strain of maintaining a property with multiple family members. We navigated through a tough situation and helped our clients exchange into a quality triple net (NNN) property where the headaches went away.
FREEDOM FROM FINANCIAL BURDEN
A client had to relocate due to a change in personal circumstance. They needed to achieve a certain financial return which involved finding a buyer who could provide him with an exit strategy he needed to get on with his life. After almost 2 years with what seems to be hundreds of showings, we found a local investor who saw value in the area, the improvements to the property and loved the current layout enough that he was willing to pay the highest price out of the many offers that we received throughout the 2 years. We persisted through the lengthy search and negotiation process to find the perfect buyer and achieved the financial result that satisfied our client's goals, allowing him to finally move on with his life.
START LIVING LIFE
Our clients, a husband and wife, decided it was time to start enjoying life more. The business pressures and demands had taken a heavy toll on them and they realized that they never had the chance to truly live the life they envisioned for themselves. The couple had trust issues after several encounters with seemingly trustworthy brokers only to be presented with offers that didn't feel right because they simply wanted a quick listing. Luckily, we came to our client's rescue to help them accurately price their property, conducted all the tours, closely assessed each buyer to determine their real intent, readiness, willingness and ability to purchase, and then ultimately helped them select the best offer in order to start living their life.
At the end of the day, it is all about helping our clients move on with their lives as a result of having better peace of mind, greater security, stronger relationships, best user fit, and highest offer. Our clients will all report that they are in a better situation in all regards after working with us. We truly feel that is the best feedback we could ever want. It is only the scorecard that we trust and rely on; more than Co-Star, more than stack rankings, and more than commissions earned. We hope you see that value that we offer and vision and mission that we stand by. From everyone at APEX, we wish you another wonderful decade. If we could be of some assistance in reaching your life and financial goals, please reach out. We look forward to working with you very soon.